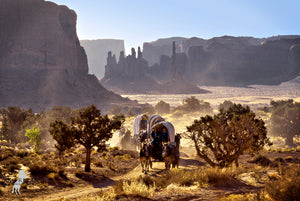 Trail of Dreams - Limited Edition
If you've watched the old Western movies, you'd have every reason to believe that seeing covered wagons on a dusty trail in Monument Valley is about as common as minivans rolling into the parking lot at a soccer game; but nothing could be farther from the truth.
On this very rare occasion, Navajo Nation tribal government permitted this family and their friends, all wagon masters to traverse this majestic and other worldly valley.
Although Christopher ran through the sand for three days, this particular image is his favorite. As the wagons serpentine through the valley, you can feel the depth in the image described by the canyon wall to the left and off in the distance, the sacred rock formation, Yei Be Che.
This image is printed to 20" X 30".
We've chosen to reproduce our flagship collection on Lightjet prints. Considered to be the finest photographic print substrate available, it is archival and can displays rich color brilliantly.
At this time, we are offering the prints unframed. The prints are shipped mounted on 3/16" foam core board.
If you prefer to have us frame them, please give us a call to discuss options and shipping.
Each limited edition print is signed, numbered and issued with a certificate of authenticity.
The logo that you see on the web page 
will not

 
appear on your limited edition print.