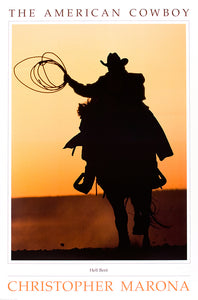 Hell Bent
West of Durango, Colorado sits a high mesa. Prized as prime agricultural land by ranchers and farmers alike, it gets first and last light. Further west, the Mesa Verde plateau carves a dark ribbon of silhouette through the sunset's clear sky. In the last lick of light, this wrangler buttons up his day by corralling the last of the herd.
Image Size - 16 3/4"W X 23 3/16"H
The lithographs are offset reproductions printed by master pressmen on 6 color printing presses. They are printed on heavy 100 lb. glossy Quintessence cover stock.
Some people choose to mat out the graphics to view just the image. The product pages for the individual images display the lithos as they are with the graphics and also the image alone so you can imagine what it would look like framed and matted. 
During the last pass on the press, the lithos are coated in an ultra-violet varnish. While the coating will help protect the image from sun damage, it will, like any art, fade if exposed to direct sun.
The lithos provide an appealing print option at an affordable price.