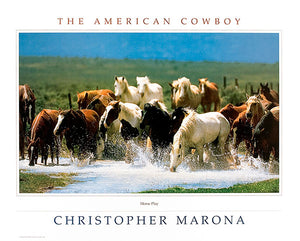 Horseplay
Tucked up in the northwestern corner of Colorado lies Brown's Park. Bordered by the Yampa River, this makes a perfect playground for semi wild horses to run amuck through the winter. The Sombrero ranch moves upwards of 800 head up to graze and fend for themselves through the cold months. The horses break up into family or political bands that vary from 6 to a dozen and scatter through the countryside.
On this occasion, seven wranglers managed to collect what they guessed to be 600. Unlike cattle that need to be pushed and driven, moving riled up range rowdy horses is more a matter of creating a wall of riders to contain the herd.
The pond proved irresistible to this lead group of ponies to stop, drink, and steal a moment to play. It was truly magical to be engulfed in a sea of horses.
23 7/16"W X 14 7/16"H
The lithographs are offset reproductions printed by master pressmen on 6 color printing presses. The are printed on heavy 100 lb. glossy Quintessence cover stock.
Some people choose to mat out the graphics to view just the image. The product pages for the individual images display the lithos as they are with and without graphics so you can get a sense of what it would look like framed and matted. 
During the last pass on the press, the lithos are coated in an ultra-violet varnish. While the coating will help protect the image from sun damage, it will, like any art, fade if exposed to direct sun.
The lithos provide an appealing print option at an affordable price.