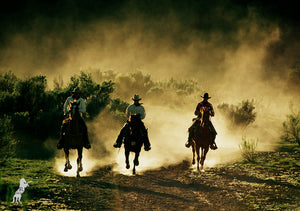 Always fascinated by light and shadow, this is the image that launched Christopher on his quest to understand light. Shot deep in isolated Weber Canyon, wedged between modern tribal lands and the ancient ruins of Mesa Verde National Park, this image was recorded less than a minute before the sun dropped behind the ridge.
U.S. State Department has acquired one of these prints for their Embassy Arts Collection.
The print measures 29X19 inches.
Christopher has chosen Lightjet prints for the flagship collection. Considered to be the finest photographic print substrate available, it is archival and can reproduce rich color brilliantly.
At this time, we are offering the prints unframed. The prints are shipped mounted on foam core board.
If you prefer to have us frame them, please give us a call to discuss options and shipping.
Each limited edition print is signed numbered and issued with a certificate of authenticity.
The logo that you see on the web page will not appear on your limited edition print.