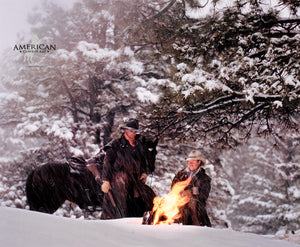 Snow Rangers
I don't know if grit can be true. But, these two, I know to be truly gritty.
It was late in February and late in the day. The storm brought both snow and the kind of cold that claws through your skin, into your bones and right out the other side. Had it been clear, you could have seen the red Hermosa Cliffs to the west and Engineer mountain at the head of the valley that brushes the sky at just a whisker under 13.000 feet.
The image was captured on 21/4 transparency film in a Hasselblad 500CM with a 150mm Sonar lens. I feared that the cold had made the film brittle and would break as I snapped the shutter and advanced the film. Clearly, the camera was less bothered by the cold than I was.
We've chosen to reproduce our flagship collection on Lightjet prints. Considered to be the finest photographic print substrate available, it is archival and can displays rich color brilliantly.
Snow Rangers Limited Edition Print measures 20"X 24".
At this time, we are offering the prints unframed. The prints are shipped mounted on 3/16" foam core board.
If you prefer to have us frame them, please give us a call to discuss options and shipping.
Each limited edition print is signed, numbered and issued with a certificate of authenticity.
The logo that you see on the web page will not appear on your limited edition print.