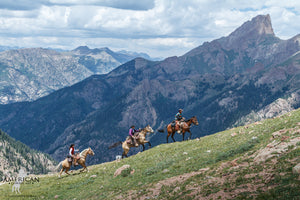 Wonders of the Weminuche
The Weminuche Wilderness, at just under 500,000 acres, is the largest wilderness area in Colorado. As a designated wilderness, it is accessible only by hiking or hoofing. A true American treasure, the Weminuche is a place to unplug, recharge and soak up the majesty of "wildness". This trio of outfitters enjoy a summer afternoon at 11,000 feet.
This image was featured as the September 2015 poster shot in the Western Horseman calendar.